A TYPICAL DAY AT BONE BACKYARD
There is nothing typical about a day at The Bone Backyard!  There are so many factors coming into play at this amazing facility!  First, what's the weather like?  Rainy?  Sunny? Overcast? There's plenty of cover for the rain, trees for the sun, and tunnels and pools for ANYTIME!
Second, who's here today?  Is it the usual crowd of daycare dogs who come to The Bone two to three days per week?  Or is it the weekend warrior crowd that's here for boarding or a half day while their mom does errands?  Or is it August, when the usual crowd is off on vacation and the "Suburb" dogs come in for their boarding week while their family is away?
Third, what staff members are here today?  The Bone Adventure has 67 employees, and each approaches their job in a slightly different way, which provides a lot of variety for our dog clients each day.
That being said, here's what a typical day would look like if we HAD a typical day!!!
6:30 am  Doors open, feeding process gets started for the dogs that spent the night last night. During typical boarding months (like August and December) this is a very busy time in our kitchen!  Each dog is fed individually and given plenty of time to eat.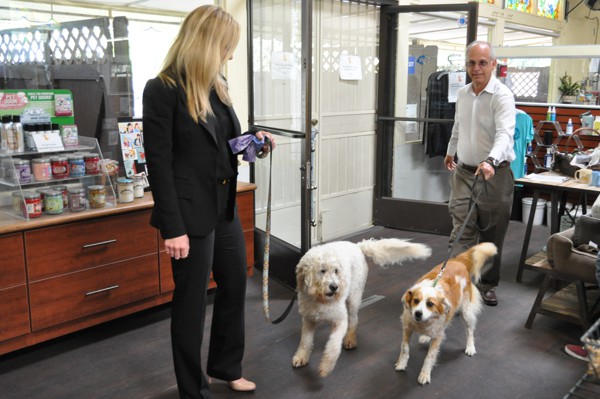 9:30 am Doors have been open for a few hours, feeding is concluded, and the majority of daycare dogs have arrived! Whew!  It's really hopping during the hours of 8-10, when the dogs are being dropped off.  Our staff knows most of the dogs coming in by name, but it takes a few times of regular attendance to get to know all of our staff members!
All morning, the dogs are at their most active. They have just arrived at The Bone Backyard, figured out what other dogs are here, who the dog handlers are, and what the pecking order is of today's pack. The fun has begun! Our well trained staff of dog handlers and supervisors continually monitor the group to make sure everyone has a good time. We make the decision each day on how many toys to bring out, whether we need to liven up the group by bringing the bubble machine out, if we use our outdoor air conditioning system to cool down the patio, or if we need to set up scheduled breaks for dogs who woke up on the wrong side of the dog bed!
Noon is time for lunch, and several of our daycare and boarding dogs get an opportunity to relax and eat.  For dogs who didn't eat breakfast, we want to try them again.  We feed many puppies lunch who are still on a three meal a day regimen. We also conduct roll calls mid day so we can check to make sure we know who all the dogs are and what special circumstances exist.
Once lunch has concluded, the dogs are back at it, albeit a bit more mellow in the afternoon!  You may want to check out The George Tree on our webcams in the backyard after lunch!  There's a gazebo ramp built around a big old tree that we call George.  Our dogs love to lounge around that tree after lunch!
3:00 pm Dogs are gearing up again.  It's cooled down and they are raring to see what's next.  Several dogs start looking through the windows to see if their parent has arrived yet.  Some of our regular clients start calling us at this time to make sure we get their precious pup out of the pool in time to dry off before going home! Or, a dog may make a trip over to The S'Paw to get a bath, blow out, and a mani-pedi!
5:00 pm – 7:00 pm It's that busy time again!  The Bone Adventure staff is making sure to grab your dog, leash, any food, etc. and bring him to you in a safe and efficient manner.  The big dogs are moved away from the pool to dry off and get ready for dinner or to go home.
8:00 pm The Bone Adventure closes its doors to the public, and the dogs who are spending the night settle into  the boarding phase of their stay.  Everyone's eaten, they've made their final trip of the day outside, the dishes are done, and the dogs are Pooped!  The overnighter's job is to make sure that every dog finds a cozy area to sleep.  It's slumber party style, but there are doggie dens for a dog to go in and sleep alone.  It all depends on the dog.  The goal is for everyone to get a good night's sleep, because 6:30 am comes quickly!
So, there is a fair amount of "the usual" at The Bone Backyard, but still not typical.  What's constant is that The dogs are relaxed, and know the staff at The Bone Adventure is there to help them, protect them, and allow them to have a good time in an environment that allows them to just be dogs!