DOG BONE HOME BOARDING
Because we are all pet owners, The Bone Adventure understands the anxiety both owners and dogs go through when they need to separate for travel.  This is why The Bone Adventure offers boarding along with its Daycare services.  We know that you want your dog (and yourself) to be as comfortable as possible.  What better way to do this than to board your dog where he loves to play during the day!
At The Bone Adventure, boarding and daycare dogs spend over 14 hours in a cage free and fun inside and outside environment.  They have had loads of tender loving care,  they have played with dogs all day, they have gotten into the kiddie pools, played with the bubbles machine, and lounged in the sun or next to a cozy heater.
At The Bone Adventure Home, we have custom built hotel suites designed for a comfortable night sleep for two dogs.  We believe that dogs who share a sleeping space will be calmer and cozier than if they sleep alone.  For dogs who cannot be kept in an enclosed room, there is a place for your dog to sleep in more of a group like setting. We want to hear your thoughts about the best place for your dog to sleep.  Keep in mind that the person that will really know what is best for your dog on a given evening is The Bone Adventure Staff Overnighter.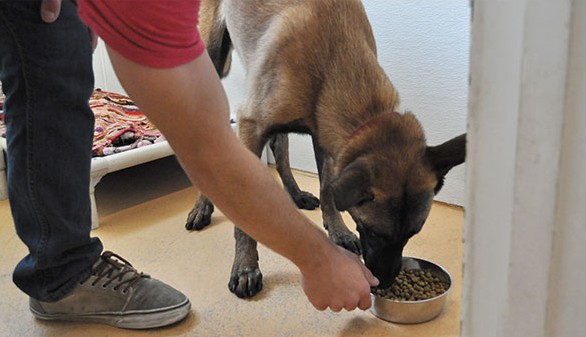 At mealtime, dogs are fed separately in our custom built hotel rooms.  Our feeding list is 100% computerized so we will prepare and serve your dog's food to your specific instructions. We have commercial refrigeration and microwave ovens to keep and prepare your food with the utmost standards.  We find it best for you to bring in your pup's own food to ensure a smooth transition to our environment.  Although we do have excellent house food in which we charge a fee; we recommend that you bring your own food.
The Bone Adventure Home is staffed 24 hours per day by trained Dog Handlers who ensure facility security and safety. Lights go out around 8:30 pm, and the dogs arise around 6:30 a.m.
Don't forget to customize your dog's stay by making an appointment for a bath and haircut in The Bone Adventure S'Paw.  Your dog will be so excited to see you and although he will be tired, he will be looking and feeling great!