BONE BACKYARD DOG DAYCARE
There's a reason why we are called The Bone Adventure…A Best Friend's Place to Play! We sure know how to play! Activity and Socialization are keys to a well adjusted dog, and The Bone Adventure is the place to get it! We have a well trained staff of dog handlers who get to know your pet individually. They will know your dog's temperament and how to provide the right level of stimulation for a fun and safe day of play.
Working with our clients and dog handlers, dogs are separated by size and temperament. At The Bone Backyard, there are five locations for the big dogs and three locations for the small dogs.
BIG DOG AREAS:
The Brown Room at the Bone Backyard! This is an indoor area where big dogs can play with other dogs and people in an enclosed environment. This is also the area that is great for a break during the middle of the day.  Many owners would like to have their dog take a few breaks throughout the day.  It's more mellow in this room during the day. It definitely has more action in the evening, because the big dogs spend the night mostly in this room.
The Bone Backyard Backyard! With over 20,000 square feet of space, the Backyard at The Bone Backyard is something to behold!  There is a beautiful bone shaped 12" deep pool (complete with fountain) surrounded by a rockscape.  In addition, there are tunnels and an elevated area we call The Putting Green!  This area has been tagged "The Disneyland for Dogs" by more than a few of our clients.  It is truly a thrill to watch our dogs play in this area. There are 7 camera angles dedicated to this area.
The George Tree!  Named after two of our log time clients named George (George Tabaian and George Orlando), The George Tree area is just adjacent to The Bone Backyard.  Dogs love to lounge under the George tree on the gazebo after breakfast or lunch.  There is a large gate that separates the Backyard with The George tree that is open or closed, depending on our mix of dogs on a particular day or time.
Captain Larry outdoor play area! Don't ask us why we named it Captain Larry.  We have a wonderful client named Captain Larry who was staying with us when we opened this play yard, so we kept with it.  Captain Larry's is it's own private play yard, where we can have smaller play groups.  Not every dog needs the excitement of the backyard every hour of every day.  It's fun to get smaller groups together to play fetch or to just wrestle and play one on one.
The New Greenhouse. There used to be a real greenhouse on our property.  Well, it was torn down and replaced by another building….It's not exactly a greenhouse, but the name has stayed with it.  The greenhouse is our new building  on the far right of our property as you look at the front of our building.  It's designed for indoor dog play but is directly adjacent to Captain Larry, so it can become a large play area.
SMALL DOG AREAS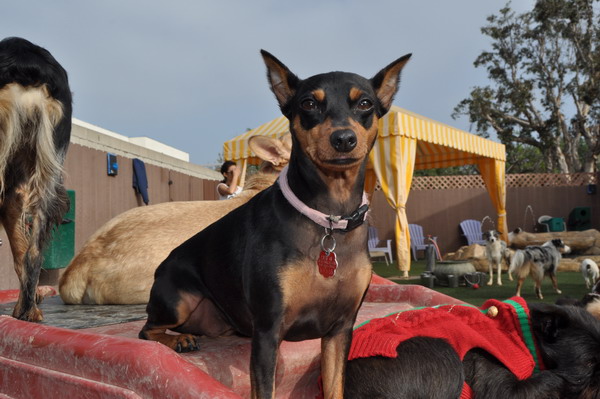 The Outside Littles.  Not to be confused with The Backyard, the small dogs have their own place to play, complete with a beautiful bone shaped 8" deep pool and a mini rock structure.  There is a beautiful yellow cabana, with lounge chairs and kuranda beds, to complete this spa like environment.
The Littles Garage.  It's not really a garage, but there is a garage door, so the name stuck.  This is a nice indoor/outdoor area so the dogs can relax and play in either location.
The Inside Littles . This area is the overnight sleeping area for small dogs, but is also used as a break area throughout the day.  Not every dog needs the excitement of our large play areas, so at any given time, you will see a dog or two taking a nap in this area.
There is always plenty of water in each play area. There is also a viewing area for each yard, so you are able to watch your dog enter the play area. You can stay and watch for as long as you want, and then switch over to our web cams once you leave the building! At Bone Backyard,  we have 15 cameras designed to give you a view of every play area during all of our hours of operation.
The best way to optimize your dog's day of play at either location of The Bone Adventure: You can drop your dog off for daycare at 6:30 a.m., proceed to work, and go workout afterwards, grab a bite to eat, and pick your dog up at our closing time, 8:00 PM. Meanwhile, The Bone Adventure will welcome your dog with loving arms, feed him breakfast, lunch, and dinner, if necessary, give him nap time if required, and give him the exercise and socialization he came here for! In addition, The Bone Adventure offers a half day session (any four hours or less), when you just need to do some errands, work out, or have lunch with a friend. We're here for you and your dog!